HOME
The Rose Chess Tournament Omaha 2016
Sunday May 1st
This Chess Tournament is dedicated to
Rose Giles 2
The most Professional Administrator I know
---
Sisters for Rose Chess Tournament !
It was crowded at the Culprit Cafe because of Berkshire Hathaway weekend .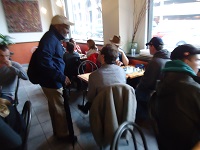 4 Chess Players .
Joe Knapp 1st Place Prize $200.00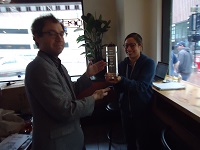 Mike Klemmensen 2nd Place Prize $100.00
Jim Crawford 3rd Place Prize $50.00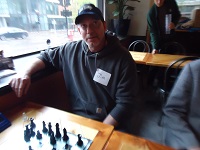 ---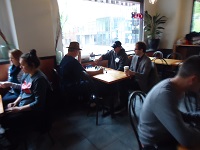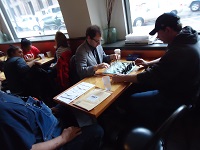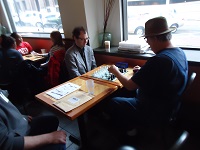 Rachel Sepulveda was the Award Presenter and received a Purple Ribbon Medal .
Rachel and all Players received a $10.00 Culprit Cafe Gift Card .
ArtsCouncil.Nebraska.gov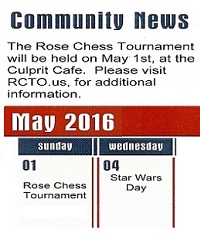 ---
The fee to play is $20.00 , $5.00 for ladies .
These fees help with the prizes .
No charge for spectators but EVERYONE must purchase something from the establishment .
Luke is providing the space at no charge .
$200.00 1st place prize
$100.00 2nd place prize
Other prizes based on the fees paid by the Players .
The 1st 3 Players to attend will receive a $10.00 Culprit Cafe Gift Card .
CulpritCafe.com
16th & Farnam
Maps.Google.com
Photographs I took :
Culprit.htm
9:00am Breakfast
10:00am Registration
11:00am Play begins
16 Players 18 or older
The 1st Player is Alaina Foster .
The 2nd Player is Joe Knapp .
The 3rd Player is Mike Klemmensen .
Rounds
All the Players will have their photograph taken before Play begins for the website .
I will take photographs and video during the Chess Tournament for the website .
---
Chess.com/forum/view/tournaments/rose-chess-tournament-omaha-2016
FaceBook.com/events/1002682816489503
Omaha.ThriftyNickel.com/classifieds/rose-chess-tournament-omaha-2016-sunday-2nd-may-455119973.html
[
04-28
][
04-21
][
04-14
][
04-07
]
[
Omaha.ThriftyNickel.com/browse/category-miscellaneous-149/page-1.html
]
WOWT.com/calendar
12 inch Trophy
The 1st Place Player can have their name engraved on the trophy for $15.00 at
CenterTrophy.net
---
2022-05-29 Sun 22:49 ct
RCTO.us
RCTO.ws